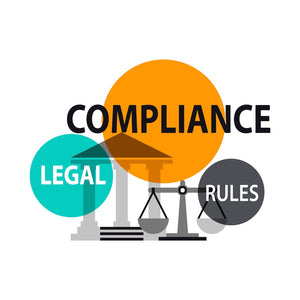 5 Essentials for a Diligent Business: Building a Strong Foundation
Starting a business is an exciting journey, but amidst the enthusiasm, it is crucial to ensure that your business is compliant with government and legal regulations from the very beginning. Because no one wants lawsuits!!! Compliance not only demonstrates professionalism and credibility but also helps safeguard your business from potential legal and financial risks. In this blog, we will explore the five essential elements that every business must have to establish a compliant foundation. This will also ensure that you are eligible for investment and you will not have to pay additional speed money to speed things up to meet the standards during due diligence. These elements include a Trade License, TIN (Tax Identification Number), BIN (Business Identification Number), Commercial Business Address, and Patent to protect intellectual property.
1.Trade License: 
A trade license is a legal requirement for operating a business in Bangladesh. It serves as official permission from the local government or municipality to engage in specific business activities. The trade license is provided by the respective City Corporation in Bangladesh, which varies depending on the location of your business.In Dhaka there are 2 city corporations;North City corporation and South City Corporation. Any business has to take a trade license from their respective city corporation. The steps for getting a trade license in Bangladesh is given below:
Step 1: Determine your business area and apply to the respective City Corporation office. 
Step 2: Obtain the appropriate application form (K-Form for commercial firms, "I" Form for manufacturing companies) from the City Corporation office. Fill out the form as required and submit it to the local ward commissioner for verification. 
Step 3: Gather the necessary documents for the trade license application, including: 
Copy of the entrepreneur's 

National ID card (NID) 

Three passport-sized photographs Copy of Passport (for foreigners) 

Relevant information for the form Holding 

Tax payment receipt 

Recent receipt or ownership proof 

Attested passport-sized photos of the business owner 

Non-judicial stamp worth Tk. 150/- Memorandum & Articles of Association (for Limited Company) Agreement of partnership (if applicable) 

TIN Certificate of Individual and entity 

Certificate of Incorporation (for Limited Company) 

Statement of Bank Solvency 

Work Permit from Bangladesh Investment Development Authority (BIDA) 

License from Fire Service & Civil Defence (for industries) 
(NB: All copies should be attested by a first-class gazetted officer/Word Councilor.) 
Step 4: After submission, a Licensing Supervisor (LS) will visit your business for inspection. Once the inspection is completed, proceed to the DCC office to pay the required fee and collect your trade license. Additionally, a signboard fee (30% of the license fee) must be paid when collecting the trade license. Completing these steps and obtaining a trade license ensures that your business operates legally and establishes credibility in Bangladesh.
To get your Trade license and for more information visit: http://www.dncc.gov.bd/site/page/b2d1c756-f2d5-4bb5-80cc-e648631dc0a5/New-and-Renewal-of-Trade-License
Now a business can get an E-trade license as well. The link to the website where you can get a trade license is given below.
E-Trade License Link:https://www.etradelicense.gov.bd/DefaultEng
It is essential to obtain a trade license to operate your business legally and maintain compliance with local regulations. It helps to establish your credibility, builds trust with customers, and protects you from potential penalties or legal consequences. 
2.Tax Identification Number (TIN): 
Every business must have a Tax Identification Number (TIN) to fulfill its tax obligations. The TIN is a unique identification number assigned by the tax authorities to track and identify businesses for taxation purposes. In Bangladesh, the National Board of Revenue (NBR) provides Tax Identification Number. It ensures that your business complies with tax laws, including filing tax returns, remitting taxes, and maintaining accurate financial records. With the digitalization of Bangladesh the process of creating TIN certificates has been digitalized as well. Which now saves businesses from hassle and time waste. 
To obtain an E-TIN just follow the prescribed procedures.
At first you need to visit the website

https://secure.incometax.gov.bd/TINHome

Using the registration form, create a User ID by providing the required information.

To get an User ID and password to open an account,a Phone number needs to be submitted. 

A code will be sent to the phone number.Then the code will be used to obtain the user ID 

Log-In with User ID/Password

Fill in the TIN Registration form by providing relevant information of the applicant/Company

Preview the submitted application. 

Obtain E-TIN Certificate.
3.Business Identification Number (BIN) / VAT Certificate : 
A Business Identification Number (BIN) is another crucial element for a compliant business. It serves as a unique identifier for your business and is required for various official purposes, including opening bank accounts, filing government forms, and conducting financial transactions. Even if you want to create Business accounts on social media platforms like: Google,Facebook,Linkedin even then you need the BIN number.
To obtain a BIN, a business has to have a register for VAT certificate first. Then throughout this process the applicant will get a BIN number. A business doesn't have to pay VAT unless its annual sale is 30 lac. However,to continue a business they must have a VAT certificate as this certificate is needed while participating in tender,banking activities, Export & Import. So the process of getting VAT registration certificate is described below:
VAT registration is absolutely free. 
Step 1:  Collecting prescribed application form from the NBR Zonal Office or NBR website 
Collect application form from NBR website
Step 2: Submitting filled in application form with supporting documents to the Zonal Office 
Fill out the form carefully and submit it with the required documents with the form.
Step 3: Verifying the documents by NBR officials 
NBR will verify the documents
Step 4: Physical inspection of the business premises 
The officials will visit the office location and examine the information you have given.
Step 5: Obtaining a VAT Registration Certificate.
Any organization that has a VAT registration certificate can get a BIN certificate online. 
You can get BIN from this website: https://www.vat.gov.bd/sap/bc/ui5_ui5/sap/zmcf_pri/index.html#/Welcome
The steps that you need to follow to get your BIN after getting into the account:
When you access the website, you'll find a menu bar with two options: "Sign up" and "Log in." To register for a BIN, you'll need to create an account first.

 If you already have an account, simply click the "Login" button. If you're new, click the "Sign up" button. 

Upon clicking "Sign up," you'll be required to fill out some forms to create your account. Make sure to complete all the fields marked with a red star, providing accurate information such as your user type, name, email ID, and mobile phone number. 

You'll encounter a recovery question below, which can be used to retrieve your password if needed. 

Finish the account creation process by successfully completing a quiz and providing an answer. Afterward, click the "Submit" button in the menu above to proceed to the next page.

On the subsequent page, set up a user ID and password that you'll use for future logins. Remember this user ID and password for accessing your account. 

With the user ID and password established, your account creation process is complete. 

Once your account is created, log in using your user ID and password. 

After logging in, you'll be directed to a page where you can select a form.

Choose the "Musk 2.1" form, which is specifically for BIN registration. 

Fill out this form accurately, ensuring that you have scanned and uploaded the required documents mentioned earlier. It's advisable to have these documents scanned beforehand. After submitting the form, the registration process for your BIN may take around one to two days. 

During this time, you'll need to wait for the registration to be processed. 

Once the registration is complete, you'll receive an email notification. 

The email will contain instructions regarding the BIN registration certificate. 

Follow the instructions provided to obtain the certificate, and keep it in a secure place.

The BIN registration information will also enable you to make timely VAT payments.
4.Importance of a permanent address:
Now if you have noticed from the above writing that one thing is common among three of the papers is that for making those papers you need a commercial address. How ever not all businesses have their own permanent office. Don't worry we have got your back, Moar has a Virtual Office service that enables the purchaser to use Moar's address in the legal papers. Who thought the solution to this big problem can be so simple. 
5.Safeguarding Intellectual Property:
Creating a compliant business is not enough; safeguarding intellectual property rights is crucial for fostering innovation, encouraging creativity, and maintaining a fair and level playing field for businesses. By protecting intellectual property, compliant businesses can prevent unauthorized use,exploitation of their valuable creations, inventions, and brands. This protection not only enables businesses to retain their competitive edge but also provides a strong foundation for growth and sustainability.
In Bangladesh people can get their patent within 3 years.Anyone, regardless of their nationality or whether they are applying individually or jointly, can submit a patent application to the Department of Patents, Designs, and Trademarks, which is under the Ministry of Industries. For foreign applicants, it is necessary to submit the application through a local law firm based in Bangladesh.The process of getting a patent is Digitalized as well. One can get their Patent from The Department of Patents,Designs, and Trademark.
Stage 1: 
Formalities of Patent Application Prepare a forwarding letter addressed to the Registrar of the DPDT. 

File the provisional specification form and ensure it is duly completed. 

Pay the prescribed fee, which depends on whether it is an ordinary or priority application. 

Then fulfill the Complete specification form and include a set of drawing sheets on tracing paper if possible. 
Stage 2: 
Acceptance Letter from DPDT Upon acceptance of the patent application, the patent office will issue an acceptance letter for advertisement. 

The acceptance letter is typically issued within 18 months of filing the application. 

The patent application will be advertised for public inspection. 

Any person has four months from the date of advertisement to give notice of opposition to the grant of the patent. 
Stage 3: 
Approval of the Patent Application If an opposition is raised, the patent applicant must submit a written reply, and the cost will depend on the legal steps taken. 

If no opposition is raised within the time limit, the Registrar is obligated to issue Letters Patent (LP). To finalize the sealing of the patent, the prescribed fee must be paid in accordance with Rule 23 of the Patents & Designs Rules, 1933. 

The fee payment must be made within 24 months or 28 months (depending on the case) from the date of filing.
The DPDT website link:www.dpdt.gov.bd
Indeed, while the process of obtaining the necessary papers and complying with regulations may be lengthy, it is crucial for the long-term survival and success of a business. These papers and compliance measures provide legal protection, establish credibility, and ensure eligibility for various opportunities such as investment, tender participation, and international business activities. By investing the time and effort into acquiring these important documents, businesses can demonstrate their commitment to operating within the legal framework, minimize risks, and establish a solid foundation for sustained growth and longevity in the market.
---