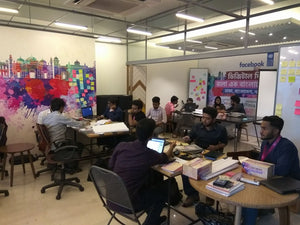 Co-working: The modern era hub for networking
Coworking spaces are where you will find great networks. Business summits/ Trade exhibitions/Corporate fairs are not the best place to meet new people anymore.Today networking is at the core of generating new sales/ leads. It is crucial for every business. Especially a game changer for startups/entrepreneurs. Building relationships lead to new opportunities when you are in touch with a large and diverse network.  networks from different parts of the industry. An effective communication with a strong community helps you understand  market better. 
A co-working space is a workplace that is open for anyone and everyone to have a productive place of work. An open, communicative workspace with no restriction. As there's no barrier in communication between individuals, enterprises can easily engage with each other for professional growth, development, and progress. Moar as a co-working space believes that it is imperative to bring great minds together to bring optimistic change in the society. Today we wish to shed light on how co-working spaces like Moar are turning into a modern era hub for networking in recent times.
As the world evolves every day, so does the way we work, collaborate, and communicate. In the earlier stage co-working spaces were mainly opened to cater to freelance individuals, small enterprises with a cost-effective solution. Later, it turned into an integral part of business communication, the center of networking. The co-working culture helped businesses to eliminate the status-based workplace system to build a more open, innovative and mindful work environment.
In a co-working space apart from being productive, efficient you can also meet different people from diverse backgrounds. It can be weird at first to think that you can simply network by going to work but that's the perks of co-working!! Meeting people from diverse fields of work, catching up with them over a cup of coffee, or bumping into someone whom you have been in search of for weeks. The opportunities are endless!!!
The importance of networking is undeniably essential for businesses and entrepreneurs today. Whether you are an MNC or startup, to succeed you must spend time on networking while you are trying to thrive in the market. Yes, social media such as, LinkedIn is great. However, it cannot possess the charm of  human contact. It has been seen that people who work alone are more prone to emotional, health issues due to isolation. So co-working is an effortless solution to this. It helps you improve your business, engage in mindful conversations with thriving individuals, and receive timely suggestions from experienced professionals. 
When you first step into Moar you will see people of all ages and backgrounds. From expert professionals to matrimonial sites everything in ONE PLACE. Among all these coworkers, one thing is common. They are a  part of a motivated and successful  COMMUNITY who want to make a difference. At Moar you have the opportunity to catch up over coffee from our very own cafeteria, no need to take the trouble of creating a relationship with your co-worker over coffee anywhere else. Moar is delighted to provide its members with a workplace where people from all walks of life are welcome and safe. Providing people with a place to network not for only a day, BUT every day. Moar believes there's nothing greater than the power of unity. When you meet someone, who has a completely different background than you, it allows you to explore, create and innovate by broadening your mind.
At Moar, we are keen to see our members grow. We often host events to create the initial connection between members to work and collaborate. Our aim has always been to not restrict our service only as a space provider but to create, impact and nurture a community that would make a difference both in the society and economy. 
If you have read this far and haven't been to Moar yet WHY NOT BOOK YOURSELF A TOUR RIGHT AWAY? It's free so come, experience the modern era hub for networking schedule a tour at: www.moarbd.com 
---