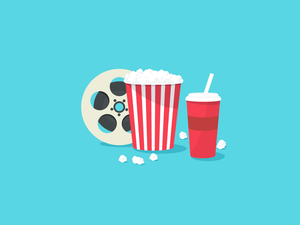 Movies Every Entrepreneur Should Watch 2.0
Everyone needs inspiration! When it comes to entrepreneurs, it can provide unique solutions to problems they are trying to solve in their businesses. Many successful personalities recommend seeking inspiration from literature, music, movies. The world of movies has blessed us with so many great artwork that could inspire new ideas and teach lessons. If you are not a bibliophile, movies can be an excellent start because there are stories that can leave you feeling inspired.
So here's the list of three movies that we recommend to aspiring change-makers like you.
The social network 
The inception of Facebook was unveiled through this movie. Directed by David Fincher, ''The Social Network'' came onto the big screen in 2010. This movie was adapted from Ben Mezrich's book The Accidental Billionaires. 
Stars like Jesse Eisenberg, Justin Timberlake, Andrew Garfield starred in this iconic film. The entire story portrayed how Facebook began its journey, its revolutions, and the hurdles. How a small silicon valley startup became a billion-dollar company. Even though the start was small, the right strategy made Facebook the successful company that it is.  The story also shed light on the challenges that are met by a founder's way while establishing something unique. 
Image: Google
One of the most important takeaways from this movie is the focus Mark shows for founding Facebook. He was extremely dedicated and decided to pivot his life within a month. When you have an idea you need to put all your focus on that so that it becomes a business, pivoting at the right time is essentia. Our takeaway as an entrepreneur from this movie is ''Turning is everything.''
The big short
Big Short !! Finance is very important for all businesses and if you want to learn fast, watch. The film is adapted from the book of the same title written by Michael Lewis. The protagonists of the story were individuals who predicted profit from the US mortgage market in the year 2007-08 during the financial crisis.  Released in 2015 the movie was directed by Adam Mckay and Charles Randolph. The movie is full of extraordinary actors like Christian Bale, Steve Carell, Ryan Gosling, and Brad Pitt. The movie received many accolades and appreciation for its unconventional method of explaining financial instruments to the audience. Subprime mortgages, collateralized debt obligations, and such complicated terms have been described in a manner as if it was as easy as ABC.
The lesson that we think we can all learn from this movie is how important it is to have a built-in risk-taking mentality. It is unlikely that anyone would bet against a market that was on the verge of crashing. If you ever have a keen interest to learn about the reason behind the financial crisis of 2007-08 this movie needs to be on your list. 
Let us know in the comments below about your take-ways from this movie.
Steve Jobs
The biographical film on Steve Jobs was adapted from the published biography and earlier interviews done in 2011. It covers 14 years in the life of Steve Jobs. Michaeal Feassbender did a fabulous job playing Jobs. Steve Jobs is a biopic that contains 3 sequences all illustrating pivotal timelines of Job's life. The movie was not ornamented with awards as expected but it is a movie that is worth watching if you want to know about the philosophies of the tech mogul.
Image: Google
Although Michaeal Feassbender doesn't look like Jobs, the marvelous acting made us believe so. The movie shows how persistent Jobs was in terms of work despite all the difficulties.Regardless of all the things that were thrown towards him. Job's persistent, perfectionist nature will make you rethink your take on innovation. 
Good movies entertain you. But a great movie has a story to tell and a lesson to teach. It can educate and inspire you in many ways. All the movies mentioned above are adapted from real-life stories. These stories give you ideas about passion, grit, and focus. It inspires you to create an exceptional life for yourself as well.  
---